Moradabadi dal with biscuity roti is a traditional recipe from Moradabad. It is said that it was accidentally made by a royal cook when Murad Baksh, the third son of Emperor Shah Jehan, asked him to make something different than the famous Rajasthani panchmel dal that they were making every day. Ever since, it is a popular snack enjoyed near Moradabad. Moradabadi Dal is made with dhuli moong dal and the preparation itself is very simple but the taste changes with different types of garnishings. In normal day today life, people just garnish it with ghee tempering but on special occasions, it can be garnished with onions, tomatoes, ginger, chillies, all sorts of masalas, butter, green chutney, tamarind chutney and so on. Biscuity Roti is a cross between a biscuit and a roti, hence the name. Accompanied by Biscuity Roti, it almost becomes like a meal. Jains can avoid onion from the garnishings.
मुरादाबादी दाल और बिस्कुटी रोटी की रेसिपी हिंदी में पढ़ें
| | |
| --- | --- |
| Preparation time | 60 minutes |
| Servings | 4 |
| Difficulty | Easy |
Ingredients for Dal
Ingredients for Biscuity Roti
| | |
| --- | --- |
| Whole wheat flour | 100 gm |
| Suji (semolina) | 40 gm |
| Besan | 60 gm |
| All purpose flour | 40 gm |
| Salted butter | 50 gm |
| Ground sugar | 50 gm |
| Milk | 60 ml |
| Ghee | 2 tbsp to top the biscuity roti |
| Chopped nuts | 30 gm |
| Sesame seeds | 10 gm |
Method
Pick moong dal for stones and dirt. Wash it thoroughly and soak for at least 30 minutes. Cook in pressure cooker with 4 cups of water, turmeric powder, half of the ginger grated finely and salt.





Once the cooker starts whistling, turn off the heat.
While dal is cooking, mix all the ingredients of the biscuity roti except milk, ghee, sesame seeds and nuts. Add the milk slowly to make a tight dough. Don't knead it too much because roti needs to be flaky like a pastry.

Leave it covered for 10 minutes and then mix in the nuts lightly. Don't knead too much. Add a little milk if the dough is too hard.

Divide the dough in 2 parts. Roll the dough about 1/4 cm thick. Cut off the sides to make a 5 inch square. Now cut it in 2.5 inch squares and cover the squares with sesame seeds. Repeat with rest of the dough, including the cut out scraps.





Bake the squares in a preheated oven at 450 degrees Fahrenheit or cook it in a tandoor till they are crisp and start to brown. Keep an eye on them because they brown pretty quickly. Biscuity Roti is ready.

Dry roast 1 tsp each of cumin seeds, carom seeds and coriander seeds with a pinch of asafoetida till fragrant. Powder them lightly when they are cold enough.
Chop onions, tomatoes, cilantro and green chillies. Julienne the remaining ginger. Keep aside

Heat ghee in a pan. Add the remaining cumin seeds and asafoetida and wait till they puff up. Now add red chilli powder and turn off the heat. Tempering is ready. Keep it aside.
Open the pressure cooker after the steam dies completely and mash the dal if it's not mashed already. Add imli paste and mix it up. Moradabadi dal is ready.

Now all cooking is done, let's plate it.
Pour dal in a bowl. Add some tempering, some onions, tomatoes, green chillies, cilantro and ginger. Squeeze a little lime on top. Sprinkle some cumin and coriander powder and chat masala. Moradabadi dal is ready to serve. Serve Moradabadi dal with biscuity roti on the side.
Notes
Dal should be fully mashed up, no grains should be visible.
If you like, you can put some ghee on top of the biscuity roti.
The biscuity roti is a little sweet but if you want you can reduce the sugar and add a little salt.
You can experiment with any masala to garnish the dal.
Feel free to serve it with green chutney or tamarind chutney.
Summary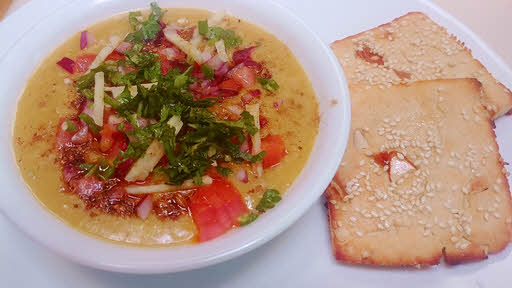 Recipe Name
Moradabadi Dal With Biscuity Roti
Author Name
Published On
Total Time
Average Rating





Based on 7 Review(s)