Whole Bengal gram or kala chana is a variety of chickpeas that is used in many cuisines all over the world but it is most popular in India. They are the richest source of proteins in legumes. A handful of Bengal gram has enough fiber and folic acid for a meal. Sprouted Bengal Gram can be used in salads, curries as well as snacks. Here is a step by step guide to how to sprout bengal gram (kale chane) along with the pictures. Depending on the season, it may take from 2 to 3 days to sprout.
काले चने अंकुरित करने की विधि हिंदी में पढ़ें
| | |
| --- | --- |
| Preparation time | 2 to 3 days |
| Servings | 2 |
Ingredients
Method
Pick bengal gram or kala chana to make sure there is no dirt or stones.





Wash them a couple of times to ensure all foreign elements are removed.
Soak them in 2 cups of water in a container.

After 12 hours, the bengal gram or kala chana would have puffed up a little.
Now put them in a wet and thin kitchen cloth. Keep this inside the container and fold the cloth over the bengal gram. Place the lid loosely on top. They should get some air circulation and stay moist at the same time. Don't wrap them too tight because they also need room to grow.





In summers, you will see some sprouts within next 12 hours. It may take another 24 hours for them to sprout fully. If you want sprouts to be longer, keep them for some more time but at this point, they are ready to be consumed.

They can be kept in refrigerator for a few days. You can eat them raw in salads or cook them lightly to make a Sprouted Bengal Gram (Kale Chane) Snack.
Summary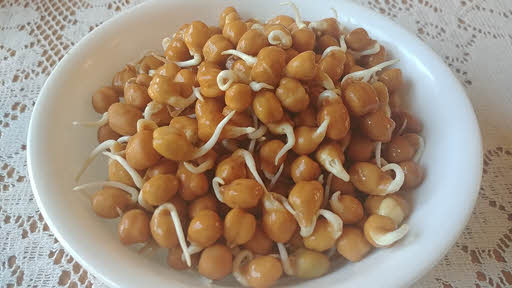 Recipe Name
How to sprout bengal gram or kala chana
Author Name
Published On
Total Time
Average Rating





Based on 12 Review(s)