Khandvi is a very popular Gujarati snack. It's delicate, looks beautiful and doesn't need that many ingredients.
| | |
| --- | --- |
| Preparation time: | 30 minutes |
| Servings: | 4 |
| Difficulty: | Medium |
Ingredients
Tempering Ingredients
Method
Spread a large piece of aluminum foil and keep aside.





Mix besan, salt, turmeric powder and heeng.

Add yogurt and whisk it well so that there are no lumps.

Now slowly add one cup of water while whisking the batter. The goal is to make a smooth batter.
Heat a wok and pour besan mixture in it. Keep stirring it constantly. The batter will immediately thicken. Keep stirring.

Batter should become glossy. It should become thicker than pouring consistency. If it becomes thicker, add a little more water.
Cook it on medium heat for at least 7-8 minutes. Taste it to make sure that you don't taste raw besan. Turn off the heat.





Pour the mixture on one side of the aluminum foil.

With the help of a turner, quickly spread the mixture lengthwise in single strokes. Try to keep it even and rectangular.

Try to make it as thin as possible without any holes. If you get some holes, pour a little more batter there and spread it evenly. The goal is to get a one mm thick batter spread evenly in a rectangular shape.
Leave it for 10 minutes and let it cool off.
To prepare tempering, heat oil in a pan. Add mustard seeds and cover it. Once they are all popped up turn off the heat. Now divide the oil in 2 parts. In one part add the green chillies split in half, lemon juice and sesame seeds. Keep aside.

Spread the other half of tempering on the besan spread. Top it with chopped coriander leaves.
Now cut off the edges of the besan spread that are not straight to get a perfect rectangle. Make sure to not to cut the foil.

With a light hand, cut the layer into 1.5 inch strips. If the strips are longer than 6 inches, cut them in half so that khandvi is not too thick.

Slowly start rolling a strip as tight as possible using your index finger and thumb.

Once the whole strip is rolled up, keep it aside. Repeat with other strips.

Sprinkle the other half of the tempering over rolled besan strips. Garnish with fresh coconut scrapings and chopped coriander leaves and Khandavi is ready to serve.
Notes
You can experiment different flavors in khandvi like ground methi seeds or ground ajwain. Just make sure that whatever you add to the batter is ground and not granular because otherwise you will have trouble spreading it in a thin layer.
You need to spread the batter pretty quickly otherwise it becomes lumpy and does not spread thin. So don't cook too much quantity in one go unless you have more people who can help in spreading.
Summary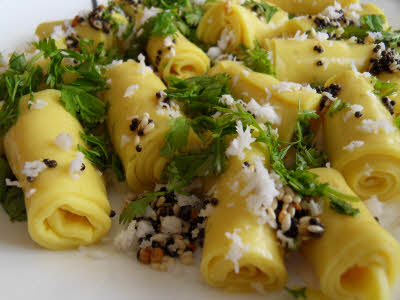 Recipe Name
Author Name
Published On
Total Time
Average Rating





Based on 1 Review(s)