Ghugni is a popular Bengali snack. It's pretty versatile and pretty filling. You can eat it on its own or you can eat it with any kind of bread.
| | |
| --- | --- |
| Preparation time: | 30 minutes |
| Servings: | 6 |
| Difficulty: | Medium |
Ingredients
| | |
| --- | --- |
| Matara (Dried Peas) | 1 cup |
| Ghee | 1 tsp |
| Mustard oil | 2 tsp |
| Cumin seeds (jeera) | 1 tsp |
| Dried whole red chilies | 3 |
| Onion | 1 cup sliced |
| Crushed black pepper | 1/4 tsp |
| Crushed cloves | 3 |
| Crushed small cardamom | 4 |
| Cinnamon powder | A pinch |
| Coriander powder | 2 tsp |
| Turmeric powder | 1/4 tsp |
| Red chili powder | 1/4 tsp |
| Potato chopped in small pieces | 1/2 cup |
| Salt | 1 tsp |
| Ground tomato | 1/2 cup |
| Sugar | 1/2 tsp |
| Soy sauce | 1 tbsp |
| Fresh tamarind | Walnut size |
| Fresh cilantro | To garnish |
Method
Soak matara overnight.

Boil it in pressure cooker with 3 cups of water and salt. Once the cooker starts whistling, turn down the heat. Turn it off in 10 minutes. Open the cooker when steam dies down.

While Matara is boiling, slice the onions roughly. Peel and chop potatoes into small pieces.

Separate the coriander leaves from the stems. Wash the leaves and chop them roughly.
Soak the tamarind in warm water for some time, squeeze it in water and strain the juice to get rid of the rind and seeds. Keep aside.
Heat ghee and oil in a wok. Add cumin seeds and dried whole red chilies. When the seeds puff up, add sliced onion and saute for a few minutes, just to make it limp.

Add crushed black pepper, crushed cloves, and crushed cardamom and saute for a few seconds till they are fragrant.

Sprinkle turmeric powder, coriander powder, and chili powder and saute for a few seconds till they are fragrant.

Add potato pieces and mix, turn down the heat and cover the wok. Cook till potatoes are soft, probably 7 to 8 minutes. Keep stirring once in a while to make sure the spices don't burn. Add some water if it starts to become too dry and starts sticking to the bottom.

Once the potatoes are soft, add ground tomatoes and cook again till the tomatoes leave the oil on the top, about 5 minutes.

Add boiled Matara along with all the water, sugar, soy sauce, cinnamon powder, tamarind juice and cook on low heat for about 10 minutes just so that everything is well incorporated.

Taste and adjust the spices as per your liking. Turn off the heat.
Garnish with chopped cilantro and Ghugni is ready to serve.
Notes
You have to be very careful when boiling matara because they dissolve pretty quickly. Ideally boiled matara should be soft and the grains should stay separate.
The final preparation should not be too dry. If it becomes dry, add a little water to it. Matara become drier after they cool down.
Summary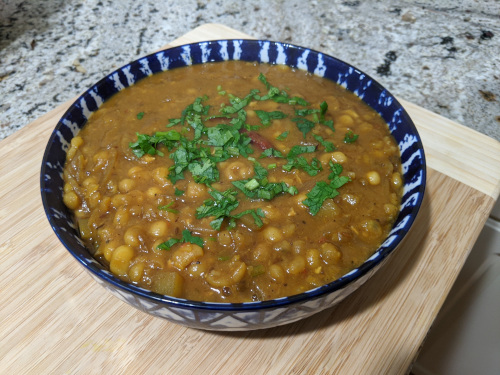 Recipe Name
Author Name
Published On
Total Time
Average Rating





Based on 2 Review(s)