Kaju Katli is one of the most popular sweets in India. The best thing about it is that it can last for a long time so it really helps in the extreme weather of India. Good news is that it uses very few ingredients it's also very easy to make.
| | |
| --- | --- |
| Preparation Time: | 30 minutes |
| Servings: | 1.5 kg |
| Difficulty: | Easy |
Ingredients
Method
Grease a shallow tray or aluminum foil.
Grind kaju to bread crumb consistency. It should not be completely powdered because when it goes in hot syrup it will melt and become pasty.

Pour sugar and water in a heavy bottomed pan and make a thick syrup of 3 wire consistency. To test it, take a few drops between your index finger and thumb and see if it stretches between the finger and the thumb. If it stretches in multiple wires, syrup is ready. On the other hand if it stretches in single wire only, cook it for some more time. And if the syrup hardens immediately, it's too thick, add some water and cook again.

Once the syrup is ready, reduce the flame to low. Add kaju powder and stir constantly.

It will immediately start to thicken. If the mixture is too thick and it's very hard to stir it, add a little water and then cook. Cook till it becomes slightly glossy. Don't worry if it appears a little wet and sticky. As it cools off it will become drier. Turn off the heat.

Cool it a bit. It should still be warm. Moist your hands with cold water and knead it as dough.

Roll it with the help of a rolling pin on the greased tray or foil.

Sprinkle crushed pista on top and roll it again. Leave it to set for an hour or so.

Once it's set, cut it in any shape you want. Kaju Katli is ready to serve

You can store this in pantry for a few weeks in an air tight container.
Notes
To give strawberry flavor to kaju katli, chop 20 strawberries and cook with 3 tsp of sugar. Once it becomes a thick syrup, mix in the kaju mixture while cooking and proceed as above.
For saffron flavor, heat saffron in microwave and powder it. Mix it in a little syrup and then mix in the kaju mixture
If the sugar syrup becomes too thick, the kaju katli will become dry. And if it's not thick enough kaju katli will be stay soft and not set properly. So be very careful when preparing the syrup.
Summary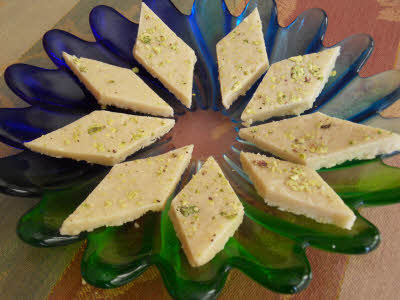 Recipe Name
Author Name
Published On
Total Time
Average Rating





Based on 3 Review(s)