Kadhi Chawal is the staple food of Punjab and Uttar Pradesh and it's so popular that you will find it in every single Indian restaurant across the world. Dubke Wali Kadhi, is from Gujrat in which the pakoris are made directly in kadhi.
| | |
| --- | --- |
| Preparation Time: | 30 minutes |
| Servings: | 4 |
| Difficulty: | Medium |
Ingredients for Kadhi
Ingredients for Pakori
Ingredients for Tempering
| | |
| --- | --- |
| Ghee | 1 tbsp |
| Cumin seeds (jeera) | 1/2 tsp |
| Whole red chili | 1 |
| Red chili powder | 1/2 tsp |
| Asafoetida (Heeng) | A small pinch |
Method
Chop green chilies finely.
Peel and grate ginger finely.
In a bowl mix all the ingredients of pakori except the baking soda. The batter should be thick so that you can drop a spoonful in the kadhi. If it's too runny, add some more besan to make it thicker. Keep it aside.
In a big bowl mix the following kadhi ingredients – besan, yogurt, salt, and turmeric powder. Whisk to make a thick paste. Slowly add 3 cups of water while whisking to avoid formation of lumps.

Heat butter or ghee in a large sauce pan. Add fenugreek and cumin seeds. Wait till they start changing color. Now add asafoetida and mix.

Pour the kadhi mixture into the saucepan and keep whisking. Once it starts to boil, turn the heat to low and let it cook for 5 minutes.

Add baking soda to the pakori bowl and mix. You can even skip baking soda but then the gatte will not be as soft. If you add too much baking soda, the pakori will dissolve in the kadhi.
Make sure your kadhi is still quite runny. If it's thick the pakori you drop in it will dissolve. So if the kadhi is thick, add some water and wait till it starts to boil.
Gently take some pakori mixture in your fingers and drop it in the kadhi as a dumpling. Repeat till all the mixture is finished.

Do not turn over the pakori, let them cook in kadhi for about 5 minutes and then gently turn them over. Again let them cook for 5 more minutes.

Move the pakori around with the help of a turner. If it feels like they are holding the shape, cook for 10 more minutes and turn off the heat otherwise cook a little longer.
Now, prepare the tempering.
In a small pan, add the ghee. When ghee starts to melt, add cumin seeds, asafoetida, and whole red chili. Stir gently. Once the cumin seeds puff up, add the red chili powder, cook for a few seconds and pour over the kadhi.

Dubke Wali Kadhi is ready.
Notes:
You absolutely need SOUR yogurt for kadhi. If your yogurt is not sour, leave it at room temperature overnight and it will become sour. In fact if I have some old yogurt that's becoming sour, that's when I make kadhi.
Kadhi always becomes thick after cooling off.
If your pakori is dissolving in the kadhi, it's still ok, kadhi will still taste good.
Summary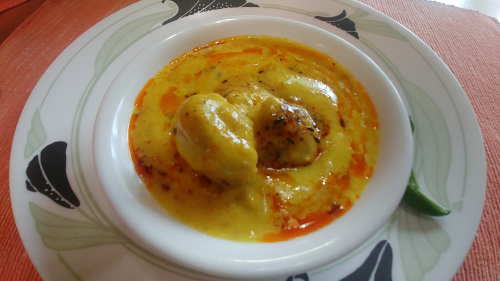 Recipe Name
Author Name
Published On
Total Time
Average Rating





Based on 1 Review(s)