Lachcha Parantha or Malabar Parantha looks really interesting with all the layers opening up and tastes even better. The generous use of ghee opens up the layers of the dough while cooking, giving it the look and the khasta or crispy taste.
| | |
| --- | --- |
| Preparation Time: | 30 minutes |
| Servings: | 3 paranthas |
| Difficulty: | Medium |
Ingredients
| | |
| --- | --- |
| Wheat flour dough | Of 1 cup flour |
| Ghee | 1 tbsp for roti and 2 tbsp for parantha |
| Wheat flour to help roll paranthas | 1 cup |
Method
Divide the dough in 3 equal size balls.
Roll a ball using dry wheat flour to about 6 inches in diameter.

Top it with half tsp of ghee and spread it all around with finger.

Dust it with a little flour.

Fold the rolled dough as if you are making the pleats of a fan.

Now fold it lengthwise and tuck in the last end in the middle.

Press it with the palm of your hand a bit.

Repeat it with other dough balls.
Now roll a ball like normal roti. Keep it a little thick.

Place it on the hot griddle. Flip it over when small bubbles start to form in the roti.

Cook on the other side too. If you are making parantha, apply ghee and cook on the griddle and Lachcha Roti/Parantha or Malabar Parantha will be ready.

If you are making roti then cook it on open flame. You will see the layers opening up.

Roti should be browned all around.

Once done, smear it with generous amount of ghee and serve it hot with dal and vegetable of your choice.

To open up all the layers even better, take the ready Lachcha Parantha or Malabar Parantha in both your hands and crumble it from sides to the middle and all the layers will open up.
Notes
You can prepare the Lachcha Parantha or Malabar Parantha in advance till the point they are cooked on the griddle lightly on both sides and then when you are ready to eat them, cook them fully.
Summary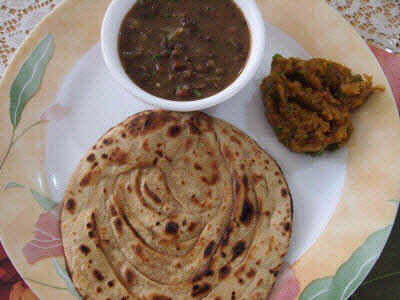 Recipe Name
Lachcha Parantha or Malabar Parantha
Author Name
Published On
Total Time
Average Rating





Based on 3 Review(s)