Quesadillas are originally from Mexico and they are versatile, hearty, and oozing with cheesy deliciousness. You can pretty much fill anything in the tortillas and that makes it really versatile and likable by all. Garden Quesadilla with Chipotle Mayo has a layer of smoky Chipotle mayo instead of the usual beans, which completely changes the flavor of the original Mexican quesadillas.
| | |
| --- | --- |
| Preparation Time: | 30 minutes |
| Servings: | 2 |
| Difficulty: | Easy |
Ingredients
| | |
| --- | --- |
| Red Onion | 1 |
| Red Bell Pepper | 1 |
| Zucchini | 1 |
| Dried Oregano | 1 tsp |
| Fresh Cilantro | 1/4 oz |
| Roma Tomato | 1 |
| Lime | 1 |
| Mayonnaise | 2 tbsp |
| Chipotle Powder or Smoked Paprica | 1 tsp |
| Flour Tortillas | 6 small |
| Mozzeralla Cheese | 1 cup |
| Arugula or any Salad Greens | 2 oz |
| Olive Oil | 2 tbsp |
| Salt | 1.25 tsp |
| Pepper | 1 tsp |
Method
Preheat oven to 400 degrees Fahrenheit.
Wash all the vegetables and prepare to cut them. Halve, peel and slice onion. Additionally, chop about 2 tbsp onion finely for salsa. Core and seed bell pepper and then cut into thin slices. Halve zucchini lengthwise and then slice 1/4 inch half moons but don't slice them too thin because they need to be baked and you don't want them to shrink to paper thin slices.

Toss zucchini, sliced onion and bell pepper, oregano and a drizzle of olive oil on a baking sheet. Season with 1/4 tsp salt and 1/4 tsp pepper. Roast in the middle rack of the oven until lightly browned for about 15 minutes.





Core, seed and dice tomato. Chop cilantro finely. Add tomato, chopped onion, cilantro and a squeeze of lime in a small bowl. Season with salt and pepper and toss. If you like your food spicy, you can also add a chopped green chilli also.

Add arugula, half the cooked veggies, a squeeze of lime and a drizzle of oil in a large bowl. Season with salt and pepper. Toss them up and salad is ready.
In another small bowl, combine mayo and Chipotle powder. Keep aside.

Once veggies are done, remove from oven and increase the temperature of the oven to 450 degrees Fahrenheit. Brush one side of 3 tortillas with olive oil and place them on a fresh baking sheet with oil side down. Spread the mayo on tortillas and top them with mozzarella and half the cooked veggies. Cover with the remaining 3 tortillas and brush the top of the tortillas with olive oil.

Bake Garden Quesadilla with Chipotle Mayo in oven till cheese melts and tortillas are crisp at the bottom for about 3-4 minutes. Carefully, take out the baking tray and flip the quesadillas with the help of a wide spatula. and put it back in the oven for the other side to get crisp, for about 2 minutes.





Cut Garden Quesadilla with Chipotle Mayo in 4 pieces each, serve with salsa and salad.
Notes:
When baking quesadillas, keep a constant eye on the tortillas as they brown very fast.
Any color bell pepper will work here as a matter of fact. We prefer yellow, orange or red to give a nice color to the veggie mix.
Always read the whole recipe first before you start cooking.
Summary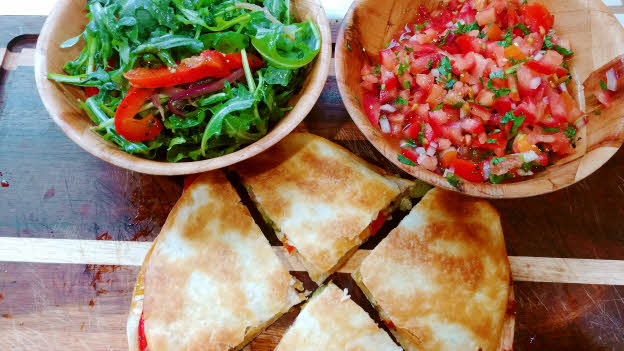 Recipe Name
Garden Quesadilla with Chipotle Mayo
Author Name
Published On
Total Time
Average Rating





Based on 3 Review(s)