Pasta is a type of noodle and it's the staple food of Italy. Pasta comes in a variety of shapes and sizes, typically made of unleavened dough. This recipe shows you how to make fresh pasta sheets, which can be used to make any kind of pasta.
| | |
| --- | --- |
| Preparation Time: | 30 minutes |
| Servings: | 4 |
| Difficulty: | Medium |
Ingredients
| | |
| --- | --- |
| Egg | 1 |
| All Purpose Flour | 1.25 cup |
Method
Add flour in the food processor and give it a swirl. Add the egg and mix again till the time a soft dough is formed. If it stays dry, add a little water.





The dough should come together.

Remove from the food processor and knead the dough. If the dough is too runny it will stick in the pasta maker. If it's too hard, the sheet coming out of the pasta maker will have holes. The dough should be like roti dough.

Flatten the dough by hand and run it through the thickest setting of the pasta machine a few times. It will form a sheet. Then run the sheet through each of the machine settings twice, from thickest to thinnest. The first run spreads the dough in a thinner sheet and the second run on the same setting, makes the sheet smoother.

Keep dusting the sheet with dry flour so that it does not stick.
Basic fresh pasta sheets are ready. Now you can cut them in any shape or size to make a pasta of your choice.
Notes
Don't take any shortcuts in running the dough through the machine. More the runs, better will be the pasta sheet.





If you have not used pasta machine for a long time, take a little dough and run through the sides of the machine a few times to collect all the dust and grease and discard this dough.
One cup flour converts into a 5 feet sheet so be generous in dusting the sheet with dry flour otherwise it will stick together.
Summary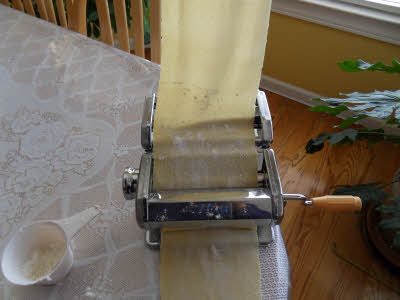 Recipe Name
Author Name
Published On
Total Time
Average Rating





Based on 1 Review(s)