Jalebi is a very traditional sweet of Uttar Pradesh, normally eaten in breakfast. It looks complicated but actually it's pretty simple to make.
| | |
| --- | --- |
| Preparation Time: | 3 hours |
| Cooking Time: | 30 minutes |
| Servings: | 6 |
| Difficulty: | Medium |
Ingredients
| | |
| --- | --- |
| All Purpose Flour | 1 cup |
| Besan | 2 tsp |
| Yogurt | 1/2 cup |
| Water | 1/2 cup |
| Baking Soda | A pinch |
| Vegetable Oil | For frying |
Ingredients For Syrup
| | |
| --- | --- |
| Sugar | 1 cup |
| Water | 1/2 cup |
| Saffron | 1/2 tsp |
| Kewra or Rose Water | 2 tsp |
Method
Sift flour and besan so that all the lumps are removed.
Add yogurt and water and whisk for 5-7 minutes. It should be pouring consistency.
Leave the batter in a warm place for a couple of hours.
After 2 hours, mix baking soda in the batter and pour the batter in an icing pipe.





To make syrup, add sugar, water and saffron in a sauce pan and boil it. Once the sugar is dissolved, check the syrup consistency. It should be one wire consistency. To check the consistency, take a little syrup in a spoon. Once it's cold enough to handle, put a drop on your index finger and touch it with your thumb. Now separate the thumb and the finger. If it forms a wire, the syrup is ready. Multiple wires mean the syrup is too thick and you need to add some water to dilute it. If no wire forms, the syrup is too dilute, you need to boil it more.
Heat oil in a flat bottomed pan. To test the oil, drop pea sized batter in the oil. If it sizzles too much or browns immediately, the oil is too hot. If it does not sizzle at all, the oil is not hot enough.
Once the oil is hot, keep it at medium heat. Now pipe the jalebis in the oil.

Fry on medium heat. Once they are golden brown, remove them from oil and dip them in the syrup for about a minute.

Take them out and Jalebi is ready to eat.
Notes
While piping jalebis in oil, make sure that the heat is on low otherwise jalebis will sizzle and move around and you will not be able to make a good shape.
Make sure that the syrup stays at one wire consistency the whole time otherwise jalebis will not come out well.
Keep the syrup warm. Every once in a while add a little more water in the syrup and boil it so that it maintains the same consistency.
Don't worry if the shape of jalebis is less than perfect. They still taste great. It takes a little practice to get the shape right.
If you are using the sourdough starter, mix one-part starter, two parts all-purpose flour, and one part water to make the batter. Leave it to ferment for at least 4 to 5 hours and it will be ready.
Summary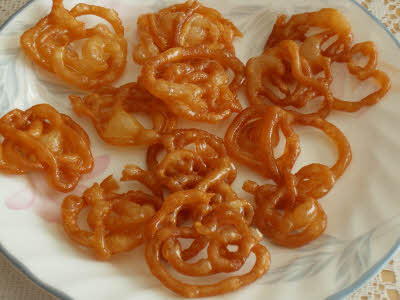 Recipe Name
Author Name
Published On
Preparation Time
Cook Time
Total Time
Average Rating





Based on 2 Review(s)