While it's easy to just order pizza from a restaurant, it just can't compete with the home made pizza. You decide which vegetables you want, the quantity of cheese, the grease in the dough and eat it piping hot, when it comes out of the oven, not to mention the money you save. Making Vegetable Pizza from scratch is a great family activity, where everyone can contribute including the kids.
| | |
| --- | --- |
| Preparation Time: 3 hours | Cooking Time: 30 minutes |
| Servings: 2 | Difficulty: Easy |
Dough Ingredients
| | |
| --- | --- |
| All purpose flour (maida) | 1 cup |
| Active Dry Yeast | 3/4 tsp |
| Salt | 1/4 tsp |
| Olive oil | 1 tbsp |
| Water | 80 ml |
Sauce Ingredients
| | |
| --- | --- |
| Cut tomato can (14 oz) | 1 |
| Italian seasoning | 1 tsp |
| Dried parsley | 1/2 tsp |
| Salt | 1/2 tsp |
| Sugar | 1/2 tsp |
| Extra Virgin olive oil | 2 tbsp |
| Toppings: | |
| Mozzarella Cheese | 3/4 cup (or more if you like more cheese) |
| Sliced onion | 1 |
| Sliced bell pepper | 1 |
| Sliced tomato | 2 |
| Sliced jalapeno (optional) | 20 pieces |
| Black Olives (canned) | 10 |
Method
To make the sauce, blend cut tomatoes to a smooth paste.
Pour it in a sauce pan. Add italian seasonings, dried parsley, salt, sugar and cook till it starts to boil. Lower the heat and cook till the consistency is like tomato ketchup. Keep it aside.
Slice vegetable coarsely and keep aside.





For dough, combine all purpose flour, yeast and salt and add warm water. Mix it with a spoon and then dump it on a clean kitchen counter and start kneading it. If it's too dry, add a little more water, don't add too much. Once it gets all together, add the oil and knead for 10 minutes to make a silky smooth dough.

Rub a little oil on top and leave the dough covered till it doubles in size, in about 2 hours.

Preheat the oven to 450 degrees Fahrenheit.





Take the dough ball and spread it with your fingers on a greased baking tray. Spread it into any shape you like. That's the advantage of making it at home 😉 Leave it for about 10 minutes and it will rise a bit again. I made double the quantity hence I got 2 pizzas here.

Spread the sauce on the bread leaving an inch from the edges. You can also brush a little oil on the edges to get crispy edges.

Sprinkle the cheese. Top it with sliced vegetables. Sprinkle a little cheese over the vegetables also.

Bake it for about 20 minutes or until the cheese is melted and the base became crisp.
Remove from the oven and brush the exposed edges with olive oil. Cut it into slices. Vegetable Pizza from scratch is ready. Serve it hot.
Notes
It is best to use a pizza stone or thick pizza sheet in the oven for a crispy pizza. If you do that, once the oven is heated, turn it on broil/grill and wait for another 15 minutes and then put the pizza in.
Feel free to use your own combination of vegetables. Involve kids. They love to make their own personal pizzas.
Make a large rectangular pizza and cut it in small rectangular pieces to serve as a starter.
Summary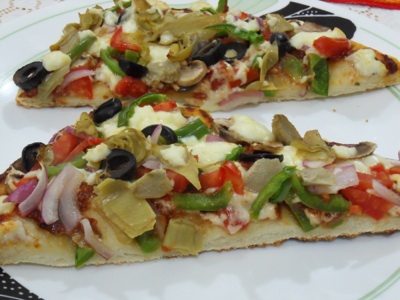 Recipe Name
Vegetable Pizza from scratch
Author Name
Published On
Total Time
Average Rating





Based on 1 Review(s)