Dosa is a fermented crepe made from rice batter and black lentils. It is a staple dish in South Indian states of Andhra Pradesh, Karnataka, Tamil nadu, Kerala and Telangana.
| | |
| --- | --- |
| Preparation Time: | 60 minutes |
| Servings: | 20 Dosas |
| Difficulty: | Tough |
Filling ingredients
| | |
| --- | --- |
| Boiled potatoes | 3 medium |
| Mustard seeds | 3/4 tsp |
| Urad dal | 1/2 tsp |
| Chana dal | 1/2 tsp |
| Kari leaves | 8-10 |
| Salt | 3/4 tsp |
| Whole red chillies | 2 |
| Green chillies (optional) | 2 |
| Turmeric powder | 1/4 tsp |
| Vegetable oil | 1 tsp |
Dosa ingredients
| | |
| --- | --- |
| Urad dal | 1 cup |
| Rice | 3 cups |
| Salt | 2 tsp |
| Vegetable oil | 1/2 cup |
Method
For filling, heat oil in a large pan. Add mustard seeds and wait till they stop spluttering. Reduce heat. Add kari leaves, whole chillies, urad dal, chana dal and turmeric powder. Saute for a few seconds till fragrant.





Add broken boiled potatoes, green chillies and salt. Mix well. Pour about half cup of water and cook till all the water is absorbed. Optionally you can also fry some coarsely sliced onions before you add potatoes.

For Batter: Pick urad dal thoroughly to make sure there are no stones or dirt. Wash it in water and soak for 5-6 hours. Wash and soak rice also separately for 5-6 hours. After 5-6 hours, drain both rice and urad and grind separately in a smooth batter. Mix them together, cover it place it at a warm place for it to ferment. Make sure that the bowl is big enough to handle the batter doubling in size.

When the batter has risen to double, it's ready. You will also smell the sour fermentation fragrance.

Add salt and mix well. You may have to add a little water to get the right consistency for making dosas.





Heat a flat griddle. Oil it a little. When it's very hot, wipe off the oil with a paper towel.
Drop a ladle full of batter on the griddle.

Take a small bowl with flat bottom (preferable metal one) and spread the batter with the bottom of the bowl in a clockwise motion. For best results, start from the middle and go out slowly making larger circles. It's best to finish spreading the dosa in one stroke.

Sprinkle a little oil on the top and on the sides. Reduce the heat to medium. Once you see it browning a little, gently separate it from the griddle using a flat spatula. Top it with a little filling, roll it and it's ready to eat.

Almost always, the first couple of dosas do not come out well because griddle is not oily enough or hot enough or the batter consistency is not right but don't get frustrated, it happens even with the master cooks.
Serve it hot with coconut chutney and Sambhar.
Notes
Filling should be a little mushy, It should not have clearly separated pieces of potatoes.
In summer the dosa batter is fermented in about 12 hours, while in winters it may take up to 24 hours. In winters, heat the oven to 200 degree Fahrenheit, switch it off and place the batter bowl in the warm oven to help in fermentation.
It takes some practice to make dosas, so don't be frustrated if you can't make very thin ones in the beginning.
When you are done spreading dosa, place the spreading bowl in the water so that its bottom stays moist for the next dosa.
These days you get fermented batter in Indian stores. So if you don't want to wait for batter to ferment, get the batter from the store. Taste it to see if it already has salt otherwise add salt.
Summary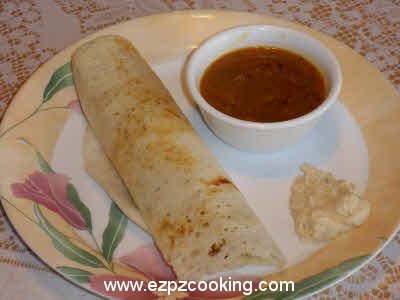 Recipe Name
Author Name
Published On
Total Time
Average Rating





Based on 2 Review(s)