I recently started baking breads and as I was getting success I was becoming more ambitious and decided that I will bake a sourdough bread since everyone at home loves it. Once I started researching about it I realized that sourdough bread is not like other breads where you can bake a bread in 3-4 hours after you decide to bake one.
Sourdough bread is made from the wild yeast naturally found in the environment, the one we breathe in and out all the time. This is the oldest form of baking bread when we did not have the fancy gadgets or store bought yeast. So the first thing you need is a sourdough starter just like a yogurt starter. I know from my yogurt experience that once you lose the yogurt starter, you need to get it from a friend or someone, who regularly sets the yogurt because it cannot be made. So when I came to know that sourdough starter can actually be made, I was thrilled and decided to make it myself. And that changed my next 3 weeks.
I researched on Internet and read that you simply start with a mixture of whole wheat flour (or any other flour) and water and keep feeding it the exact amounts of flour and water at regular interval and you will have a starter in about a week. Sounded pretty simple and boy o boy, I fell in a trap or that's what it felt like at that time.
I followed the instructions by feeding the mixture twice a day for next 3 weeks, before I had a thriving sourdough starter. It felt like it had taken over my routine and my kitchen. I almost gave up after 2 weeks but had invested so much time already that I just couldn't give up and kept going and of course finally I got it. It was funny the amount of flour I was consuming those days. Anyways, I made a lot of mistakes and that's what I want to point out here so that you avoid them.
Mistakes
First of all since wild yeast is pretty delicate, avoid ingredients that may contain more chemicals than natural. So do not use bleached flour because chemicals are used to bleach the flours.
Avoid using tap water, use bottled water. Or if you don't want to use bottled water than at least keep the tap water in a vessel for at least 24 hours before you use it so that all the chlorine is removed from the tap water.
Recipes on internet suggested that just leave the starter on the kitchen counter or in the oven with light on and it will work but temperature in every kitchen or oven is different so results vary a lot. The ideal temperature for the starter is around 85 degrees fahrenheit. In one of my ovens, the temperature with light on was around 100 degrees, which pretty much spoiled the batter. My kitchen counter is around 75 degrees, which is not warm enough for the starter at least in the beginning. Fortunately my second oven had a temperature of around 85 degrees.
Last but not the least, I would suggest that you use a branded flour for making the starter. It takes at least 7 days and at the end if it does not work, it's pretty disappointing, so start with the best ingredients to reduce the chances of failure.
The recipe is pretty straight forward:
| | |
| --- | --- |
| Preparation Time | 1 to 3 weeks |
| Difficulty | Tedious |
Ingredients
| | |
| --- | --- |
| Whole wheat flour | 4 oz |
| UNBLEACHED all Purpose Flour | 10 pound bag |
| Bottled water | 48 oz to 200 oz |
| Kitchen weighing scale | 1 |
Method
Day 1:Combine 4 oz whole wheat flour and 4 oz water in a glass bowl. Mix well to make sure no dry flour is left. Find a place with the right temperature and leave it lightly covered. Don't cover it air tight.

Day 2: After 24 hours you may or may not see any activity in the batter. Take only 4 oz of the batter (discard the rest) and add 4 oz of all purpose flour and 4 oz of water. Mix well so that no dry flour is left. Leave it for lightly covered at the right temperature for another 24 hours. This is called discarding and feeding the starter.

Day 3: After 24 hours repeat what you did on day 2 and then after 12 hours repeat what you did 12 hours ago on day 3. You may start seeing some bubbles in the batter now. So from day 3, you discard and feed the starter twice at the interval of 12 hours approximately.

Repeat what you did on day 3 for next several days until you see the batter doubling up in volume in 4 to 5 hours after the feeding. Once that happens a few time after the feeding, do the float test. Take a pea size batter before the feeding and drop it in the water. If it floats, congratulations, your sourdough starter is ready. If it does not float, you may need to feed it a few more times.





Once the starter is ready and it doubled in volume after the feeding. You can store it in refrigerator. Whenever you want to bake the bread, feed the starter as you would normally do and once it doubles, you can use it in the bread. Always save some starter in refrigerator for the next bake. If you are not baking, you must feed the starter at least once a week, let it double in size and then store it away in refrigerator again. Some bakeries have starters that are 10 years old.

If you are travelling and you cannot feed the starter every week, then you have two options. One, just before you leave, you feed the starter as you normally will and immediately put in refrigerator. This will feed the bacteria yet slow it down. I have tried this and my starter was fine for 5 weeks. The second method is to freeze the starter and then when you are able to feed it, thaw it and feed it. It may take 2 to 3 days for it to become vigorous again but it works.
So this is all fine but what do you do with the discards? Well there are many recipes on the net to use it. I personally love to make Naan out of the discards.
Summary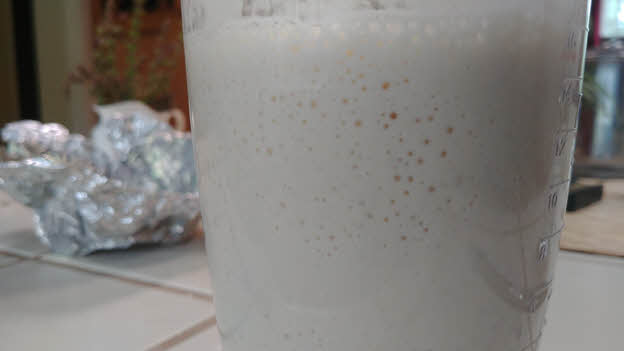 Recipe Name
Author Name
Published On
Total Time
Average Rating





Based on 3 Review(s)