Makki Ki Roti and Sarson Ka Saag are the staple food of Punjab, India. Makki Ki Roti takes a little more effort than usual wheat roti but then it tastes so much better 😉
| | |
| --- | --- |
| Preparation Time: | 40 minutes |
| Servings: | 6 roti |
| Difficulty: | High |
Ingredients
Method
Add salt to 2 cups of makki ka aata and knead it with one cup of warm water.





Once the dough is formed, rub it from the heel of your palm for 2-3 minutes in mash and fold action.

Cover it and let it rest for 15 minutes.

Heat a frying pan or a steel griddle. Traditionally Makki Ki Roti is cooked on a steel griddle.
Make about 6 balls out of the dough. Place a ziplock (or any other thick plastic) on the counter top. Sprinkle it with a little corn meal. Flatten a ball, place it on the ziplock and sprinkle dry makki ka aata on it.





Now slowly roll it with the help of a rolling pin. Pat it with your hands to keep it together because it tends to fall apart.

Once the griddle is hot, lift the ziplock and carefully invert it on your hand so that the roti comes on your hand. Now place the roti on the griddle very gently otherwise it will fall apart. Turn the heat to medium.

Turn over the roti after a minute or so.

Once both sides are cooked for a minute, place a toaster grill on the stove and place roti on it. Make sure the first side to touch the griddle is at the top. It's important to get this side right for better puffing.

Keep rotating roti on the grill.

While grilling the roti, brush off excess flour very gently.
Once it browns a little, turn it over and cook from the other side.

Once it browns a little from both sides, Makki Ki Roti is ready. Top it with butter and serve with Sarson Ka Saag.
Notes:
Roll the rotis gently so that the sides do not break. Be gentle when lifting the roti otherwise it will break. Use the dry corn meal flour generously so that the roti does not stick.
Some people spread the roti using their fingers only but I prefer using a rolling pin.
I suggest using a ziplock so that it's easy to lift the roti.
Summary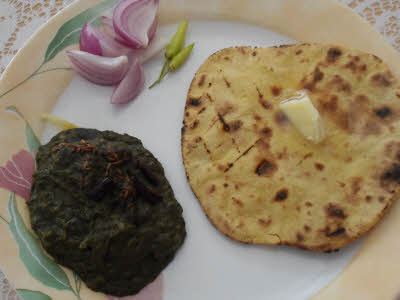 Recipe Name
Author Name
Published On
Total Time
Average Rating





Based on 2 Review(s)