Tadka is the magic of South East Asian cooking. It is an age old cooking technique which has been in use for hundreds of years. In its most fundamental form, the whole fragrant spices are briefly fried in oil or ghee to liberate their essential oils before being poured onto an already cooked dish. This technique is called chaunk in HIndi, phoran in Bengali, tadka/tarka in Punjabi, vaghaar in Gujarati, fodni in Marathi, baghaar in Urdu, tempering in English and many more.
There are two types of tadkas. One, which is used in the beginning as the foundation of the dish and the other, which is added as a finishing touch. In general when people refer to tadka, they mean the one that is added in the end.
When used in the beginning of the recipe, the whole dish builds on top of the tadka. You start with a big pan, add oil or ghee, fry all the spices and then add your vegetables or meat and cook them in the same pan. For most of the curries, vegetables, meats and seafood, tadka is used in the beginning and the whole dish is cooked in it.
The tadka that is added in the end is prepared in a separate pan and poured over the dish after it has been cooked. It is normally made in a very small pan because if you have to sizzle the spices in one tablespoon of oil or ghee, it better be in a small pan. Most of the dals use tadka in the end. This is the recipe of tadka from Northern region of India.
| | |
| --- | --- |
| Preparation Time: | 5 minutes |
| Servings: | Not applicable |
| Difficulty | Easy |
Ingredients
Method
Heat ghee in a small pan. If using butter instead of ghee, add a few drops of vegetable oil so that butter does not burn.
Add cumin seeds and wait till they puff up.

Now add asafoetida powder to the ghee. Break whole red chillies in 2-3 pieces each and add them too.





Once the chillies are fried, add red chili powder and mix. Turn off the heat. Tadka or Tempering or Chaunk is ready.

Spread it hot over Dals.
Notes:
In the state of Punjab, onion, tomatoes, ginger and garlic is used in this Tadka or Tempering or Chaunk.
In down South India, cumin seeds are replaced by mustard seeds and kari leaves.
The fundamental principle is to add some fat to the dal with some spices.
Summary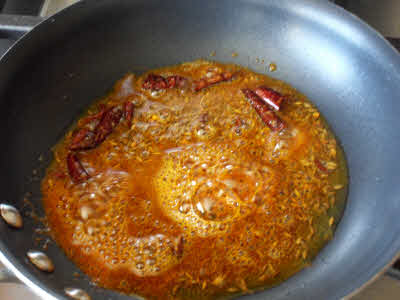 Recipe Name
Tadka or Tempering or Chaunk
Author Name
Published On
Total Time
Average Rating





Based on 2 Review(s)