Gud and Makhane, both are nutritious food items. Makhane have a lot of calcium, which is great for bones. Gud of course is good to get rid of the inhaled chemicals and to improve the immunity of the body. So Gud Makhane is a perfect combination to satisfy your sweet cravings this winter.
| | |
| --- | --- |
| Preparation time | 30 minute |
| Servings | 2 |
| Difficulty | Easy |
Ingredients
Method
First remove any hard black shell, left over on any makhana.
Then saute makhane in one tablespoon of ghee on low heat. If the heat is high, they will brown and we don't want that. We just want them crispy. You can also do this in a microwave.

Once the makhane are crisp, keep them aside. Now break gud in small pieces and heat it with a teaspoon of water in a wok.

The main thing in making Gud Makhane is the right amount of cooking of gud. If it's not cooked enough, the makhane will stay soft. If it's cooked too much, it will taste burnt. But, you can make the perfect Gud Makhane every time, if you have the baking thermometer and I'll show you how.
Once the gud starts to boil, add 1 teaspoon of ghee.
Now check the temperature of the melted gud. When it reaches 122 degrees Celsius or 252 degrees Fahrenheit, gud is ready. If you don't have the baking thermometer, you can drop a few drops of gud in water and check. If it solidifies into a crisp piece immediately, gud is ready.
When gud is ready, turn off the heat and quickly add all the makhane in it and mix. If you want, you can even add 1 tablespoon of sesame seeds at this time.

Keep mixing the makhane so that all of them are evenly coated with gud and then take them out in a plate and spread them. Separate the makhanas from each other. If the gud was cooked properly, you will see a shine on makhanas. Gud Makhane are ready.
Let them cool fully and then store them in an airtight container. They loose their crispness pretty quickly so make sure that you store them in an airtight container.
Summary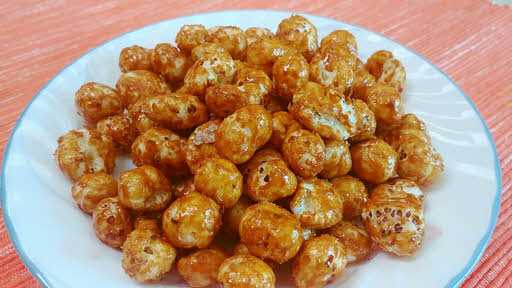 Recipe Name
Author Name
Published On
Total Time
Average Rating





Based on 1 Review(s)