Plain Idli is the staple breakfast of South India. Every household there has a big vessel of Idli batter in their kitchen ready to be cooked all the time. It is really a comfort food, so light and so simple that you can eat it at any time. Did you know that Idli was inspired from an Indonesian dish called Kedli? Between 800 AD and 1200 AD, there were a lot of Hindu kings, who used to live in Indonesia and used to visit India to get married and that's how Kedli came to India and became Idli.
सादी इडली की रेसिपी हिंदी में पढ़ें
| | |
| --- | --- |
| Preparation Time: 1 day | Cooking Time: 15 minutes |
| Servings: 24 small Idlis | Difficulty: Easy |
Ingredients
| | |
| --- | --- |
| Dhuli Urad Dal | 1 cup |
| Idli Rawa | 3 cups |
| Poha | 1/5 cup |
| Salt | 3/4 tsp |
| Vegetable Oil | To grease the mold |
Method
Wash and soak urad dal and poha for at least 4 hours.

Soak 2.5 cups of Idli rawa in 1 cup of water for at least 1 hour. If it absorbs all the water add some more water.

Grind urad dal and poha to a fine paste.
Add the soaked rawa also and grind a bit, not too much.





Take out the batter in a big bowl with room for the batter to ferment. Add the remaining dry rawa if the consistency of the batter is not right.

Cover the bowl and leave it overnight in a warm place.
Next day the batter would have doubled in volume. When you swirl in a spoon in the batter, you will see the air pockets. This means the batter is ready. You can even smell the fermentation. At this stage, you can store it in refrigerator for at least a week.
When you are ready to make Idlis, take out just enough batter and bring it to room temperature. Add salt. Check the consistency. It should be thick and not flowing consistency.
Boil about half inch of water in a big vessel, in which your Idli mold can fit in.
Grease the Idli mold with the oil.
Pour the batter in the mold and steam it covered in the vessel with the water for about 12 minutes.
Turn off the heat. Take out the mold and let it sit for a few minutes. Idlis would have puffed up a bit.





Now take out the Idlis from the mold with the help of a spoon.
Serve them hot with thin Sambhar and Coconut Chutney.
Notes
Idli rawa is different than the plain rawa. You need Idli rawa in this recipe.
While fermenting the batter, make sure it's neither too stiff nor too runny. In both the conditions it will not puff up.
The sure shot way to get it to ferment in any season is to place it on a refrigerator regulator and cover with a kitchen towel. Since the regulator is warm, it ferments reliably regardless of the weather.
Mix salt only in the batter you are using right now. Batter goes bad quickly if you store it with salt.
If you are not sure whether the consistency of your batter is right or not, try making just 1 Idli first. If it is a little elastic while cutting it, either the batter is too runny or it's not fermented. You can tell if it's fermented by the increased volume or by the air pockets or by its smell. So that is easy to find out. If it's too runny, add a little more dry Idli rawa in it and wait for 15 minutes, before it thickens.
Here is another variation of the Idli, which is made from plain rawa: Rawa Idli.
Summary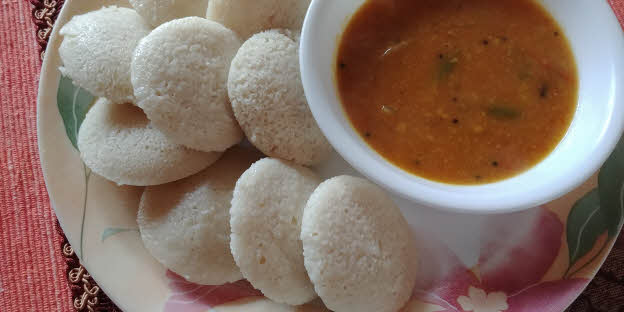 Recipe Name
Author Name
Published On
Preparation Time
Cook Time
Average Rating





Based on 3 Review(s)