Shahi Kofte or Malai Kofte are generally made from cottage cheese. The gravy is a little more rich than the regular kofte and that's why it's called shahi (fit for a king). Great for parties.
| | |
| --- | --- |
| Preparation time: | 60 minutes |
| Servings: | 7 Koftas |
| Difficulty: | Medium |
Ingredients for Kofta
| | |
| --- | --- |
| Cottage Cheese | 1/2 cup |
| Boiled Potato | 1/2 cup (mashed) |
| Red Onion | 1/4 cup chopped |
| Green Chillies | 2 |
| Salt | 1/2 tsp |
| Red Chilli Powder | 1/2 tsp |
| Corn Starch or All Purpose Flour | 2 tbsp |
| Vegetable Oil | To fry |
Ingredients for Gravy
Method
To make koftas, mash the cottage cheese with the heel of your hands till it becomes smooth like dough.





Peel and grate the boiled potatoes and keep aside.
Finely chop red onion and green chillies.

Mix cottage cheese, grated potato, green chillies, salt and red chilli powder to make a dough.

Make small balls out of it. They should be a little smaller than a walnut.





Roll these balls in corn starch and keep aside. It's important to roll them in flour because otherwise balls may splatter while frying.

Heat oil in a wok. Drop pea sized dough in the oil. If it becomes brown immediately, the oil is too hot. If it settles down in the beginning then the oil is not hot enough.
Drop a few balls in the oil at a time and fry them. Do not touch them immediately otherwise they start sticking to the turner. Once they start to become slightly brown, move them around so that they brown evenly. Sometimes the balls splatter so be careful and stay away from the wok as much as possible. Drain them on paper towel when they are golden brown from all sides. Shahi Kofte or Malai Kofte balls are ready.
To make gravy, heat ghee in a pan. Add onion and fry till it starts to brown.

Add all the spices except garam masala and fry them for a few seconds.

Now add cashew powder, khoya and 2 cups of water. Mix properly so that there are no lumps.
Cook it for a few minutes till it becomes thick. Turn down the heat. Now add yogurt and garam masala. Cook it for a few minutes until it starts to boil again. Turn off the heat. Gravy is ready.

If you are going to serve it immediately, gravy should be thick and not runny. If you are making it ahead of time then add a little water to the gravy because it becomes thick after it cools down.
Place koftas in a serving dish and pour hot gravy on top. Garnish with coriander leaves and Shahi Kofte or Malai Kofte are ready to serve.
Notes
I used home made cottage cheese but if you get it from an Indian store, it comes in the form of a slab. The best way to crumble is to grate it.
Some people like to make kofta cylindrical. It's up to you how you want to shape it.
If you are allergic to cashew, you can use pistachio. Nuts add a nice body to the gravy and taste too.
You can also replace yogurt with tomato puree.
If you like your gravy real smooth, blend the gravy in blender once it's ready.
Summary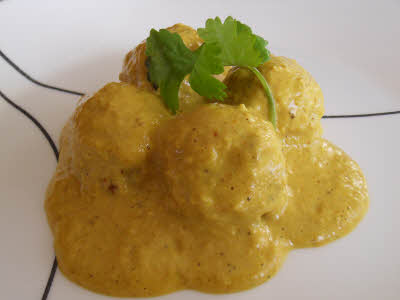 Recipe Name
Shahi Kofte or Malai Kofte
Author Name
Published On
Total Time
Average Rating





Based on 3 Review(s)