American Lavash is believed to be among the world's oldest breads, dating back as many as ten thousand years. This simple flatbread is great with soups and dips. The small amount of dough goes a long way because it's rolled so thin. There are thicker versions from other parts of central Asia as well as super thin cracker versions. You can pull out lavash from oven when it is only slightly brown and still chewy or let it go a little longer for a crisp cracker.
This recipe has been taken from the book 'The New Artisan Bread in Five Minutes a Day'. Click on the image below to purchase it from Amazon:
| | |
| --- | --- |
| Preparation Time: | 3 hours |
| Servings: | 1 large lavash sheet |
| Difficulty: | Easy |
Ingredients
| | |
| --- | --- |
| All Purpose Flour | 225 gm |
| Active dry yeast | 2.5 gm |
| Salt | 5 gm |
| Warm Water 80F | 170 gm |
| Sesame seeds | 1 tbsp |
Method
Combine yeast, warm water, flour and salt in a big bowl. Make sure there is no dry flour left.





Cover the bowl loosely and keep it at room temperature around 75 degrees F for a couple of hours or until it doubles. At this point you can refrigerate the dough for up to 2 weeks with lid closed tightly.

If you want to bake the lavash right now, preheat the oven with baking stone at 450 degrees F. When you use a baking stone, always heat the oven for extra 20 minutes after it reaches the required temperature so that the stone is heated through.
Make a ball of the dough, dust it with more dry flour and roll it in a rectangle or circle with the help of some more dry flour. Roll it really thin, about 1/16th of an inch thick. Place some semolina on aluminum foil and transfer the dough on to that.
Brush the dough with water and sprinkle sesame seeds. Prick it all over with a fork so that it does not puff up during baking.





Pour a cup of hot water in the broiler tray in the oven. Gently transfer the aluminum foil on the baking stone and bake till it starts to turn brown. Keep an eye on it as it gets brown pretty fast. It may take anywhere from 5 to 10 minutes depending on the thickness of the dough. Once it's brown enough to your liking, turn off the oven and cool the lavash.

Break it in big pieces and serve the crisp lavash bread with a dip of your choice. It goes well with hummus.
You can even sprinkle some zatar mix on it.
This recipe has been taken from the book 'The New Artisan Bread in Five Minutes a Day'. Click on the image below to purchase it from Amazon:
Summary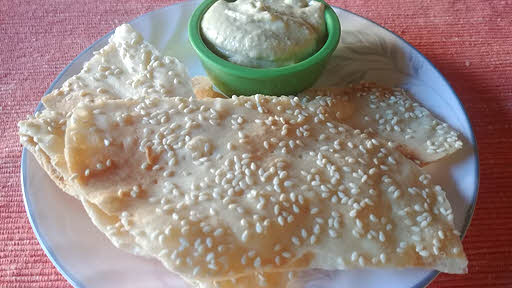 Recipe Name
Author Name
Published On
Total Time
Average Rating





Based on 1 Review(s)