Thecha is a spicy chutney prepared across the states of Maharashtra, Rajasthan, Madhya Pradesh and parts of Karnataka and Andhra Pradesh, which is traditionally eaten with a meal. In Thecha Spread with Bread, I have created a fusion recipe, which has a the spiciness of the chutney, juiciness of the fruits, creamy taste of the cheese and heartiness of the bread, all in one bite.
| | |
| --- | --- |
| Preparation Time: | 25 minutes |
| Servings: | 8 |
| Difficulty: | Easy |
Ingredients
| | |
| --- | --- |
| Big hot chilli (like Jalapeno or Serrano peppers) | 1 cup |
| Diced garlic | 1 cup |
| Jeera (cumin seeds) | 1 tsp |
| Olive oil | 3 tbsp |
| Salt | 1 1/2 tsp |
| Pugleise or Sour dough baguette | 1 |
| Truffle or Gouda cheese | As required |
| Kiwi fruit (or any other sweet and sour fruit) | 2 |
Method
Dice the garlic and chillies. You do not have to finely chop them.





In a big wok, heat oil. Add cumin seeds and wait till they puff up.

Add garlic and saute till it's lightly brown.

Now add chillies and saute till they start changing color and garlic becomes brown.





Add salt and mix well. Turn off the heat.
Grind it coarsely (preferably in morter and pastel).

Traditional thecha is ready to be used as chutney. Please remember, this is extremely hot so use sparingly.

For a fusion recipe, spread thecha over a piece of sour dough bread and top it with cheese. Optionally you can also top it with a kiwi slice or halved grape. When you bite into it, all sorts of flavors will just burst in your mouth.
Notes
This is a traditional Kolhapuri recipe. Very spicy, but can be softened with either cheese or olive oil.
You can use any other peppers you want depending on how hot you like your thecha.
The spread can be really hot so be careful with the quantity you use on a piece of bread.
One way to tell that chillies and garlic are ready is when you start sneezing with the aroma 😉
Always wash your hands with soap after handling the peppers otherwise if you accidentally rub your hand in your eyes, it can be really painful.
Summary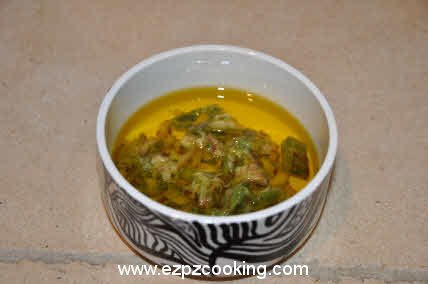 Recipe Name
Author Name
Published On
Total Time
Average Rating





Based on 1 Review(s)