Tadka/Tarka/Chaunk/Tempering/Baghar is the magic of South Asian cooking. It is an age old cooking technique which has been in use for hundreds of years. In its most fundamental form, the whole fragrant spices are briefly fried in oil or ghee to liberate their essential oils before being poured onto an already cooked dish.
Chaunk, tarka, vaghaar, what are they?
This technique has many names because of so many languages. In Hindi, it is called chaunk, phoran in Bengali, tadka/tarka in Punjabi, vaghaar in Gujarati, fodni in Marathi, baghaar in Urdu, tempering in English and many more.
The Hindi term, chaunk is believed to be based on the sizzling sound of tadka when it is poured over a dish and it goes – chunnnn…
Types of tadka
There are two types of tadkas. One, which is used in the beginning as the foundation of the dish and the other, which is added as a finishing touch. In general when people refer to tadka, they mean the one that is added in the end.
When used in the beginning of the recipe, the whole dish builds on top of the tadka. You start with a big pan, add oil or ghee, fry all the spices and then add your vegetables or meat and cook them in the same pan. For most of the curries, vegetables, meats and seafood, tadka is used in the beginning and the whole dish is cooked in it.
The tadka that is added in the end is prepared in a separate pan and poured over the dish after it has been cooked. It is normally made in a very small pan because if you have to sizzle the spices in one tablespoon of oil or ghee, it better be in a small pan. Most of the dals use tadka in the end.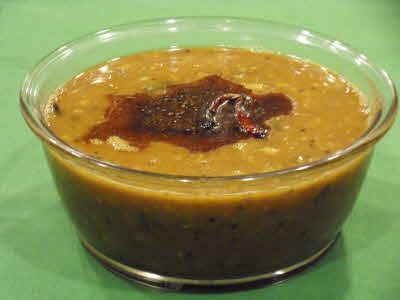 The tadka used in the end not only enhances the flavor of the freshly cooked food but it also gives a new life to the food that was cooked and stored away. In fact, this is the technique used by most restaurants, where they cook the basic food early in the morning and then rest of the day, they just keep making fresh tadka and pour it over the already made dish just before serving.
Ingredients of Tadka
The content of tadka varies from region to region but fundamentally it is the same. You add a little oil or ghee in the pan, once it's hot, you add the spices popular in your region, allow them to sizzle and then either add your vegetables to cook or pour the tadka on a ready dish and cover it to trap the fragrance.
Ingredients typically include cumin seeds, black mustard seeds, fennel seeds, fresh green chilis, dried red chilis, fenugreek seeds, asafoetida, cloves, urad dal, chana dal, curry leaves, chopped onion, garlic, or bay leaves. When using multiple ingredients in tempering, they are often added in succession, with those requiring longer cooking added earlier, and those requiring less cooking added later.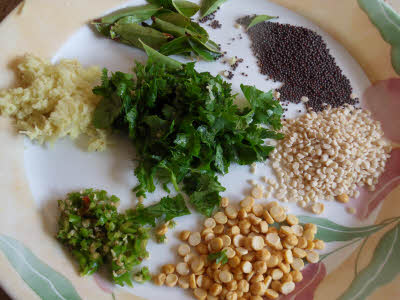 Spice box
Tadka is generally made on high heat, which means you have to be ready with all your ingredients before you start heating the oil because if you delay in adding the next ingredient, the previous one may burn out. This is why a typical South Asian kitchen has a spice box with most of the ingredients of tadka.
Tadka is ready, what next?
Once the tadka is ready, you have to stop further cooking right away otherwise the spices will burn. If you want to use it in the beginning, quickly add the vegetables or meat in the pan. All these additions immediately bring down the temperature of the pan. If you're preparing tadka to finish a dish, make sure that the dish is already ready. That way you can immediately pour the tadka on the dish and trap all its fragrance in the dish.
Can tadka be made in advance?
Absolutely not. If you store the tadka, it will lose its fresh aroma and fresh taste and defeat the whole purpose, especially if it is to be used as a finishing touch. The tadka used in the beginning can still be prepared in advance and kept.
Here are some examples of tadka from different regions of India:
Basic Punjabi Tadka
Heat ghee. Add cumin seeds, asafetida powder and dry whole red chilli. Wait till cumin seeds crackle. Add chopped onion, chopped ginger, minced garlic and fry for a few minutes. Then add chopped tomatoes. Fry for a few minutes and Punjabi tadka is ready.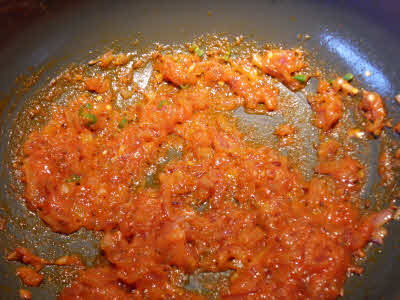 Uttar Pradesh Tadka
Heat ghee. Add cumin seeds and asafetida powder. Once cumin seeds crackle, add red chilli powder and UP tadka is ready.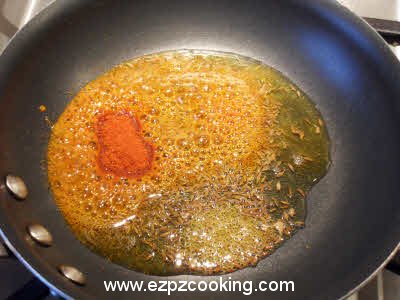 South Indian Tadka
Heat ghee or oil. Add mustard seeds and wait for them to crackle. Add urad dal, chana dal, kari leaves and dry whole red chilli, Fry for a few seconds and South Indian tadka is ready.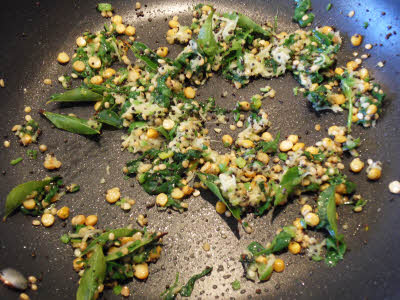 Precaution
When the whole spices are added to the very hot oil, they splatter. So you have to be very careful.
Always have the exhaust running while preparing tadka because the spices are really strong and the whole house will smell like food.

Summary

Recipe Name

Tadka/Tarka/Chaunk/Tempering/Baghar

Author Name

Published On

Total Time

Average Rating

Based on 1 Review(s)