Chaulai is called Amaranth in English. Chaulai Seeds are extremely nutritious seeds. In fact these days Quinoa is gaining popularity, which is from Amaranth family only, so you could pretty much consume the inexpensive amaranth or chaulai instead of the expensive quinoa. In fact Chaulai Ke Laddu is a popular street sweet in India and needs just 3 ingredients. So if you want to keep yourself healthy, consume chaulai whenever you can and chaulai ke laddoo is one great option.
चौलाई के लडडू की रेसिपी हिंदी में पढ़ें
| | |
| --- | --- |
| | |
| Preparation Time: | 60 minutes |
| Servings: | 20 |
| Difficulty: | Medium |
Ingredients
Method
Sort through chaulai to discard any dirt or stones. Some people even wash it and then dry it out so that all the dirt is removed.
Roast chaulai in a heavy vessel. There is a special way of doing it. Heat a large heavy wok. Add a handful of chaulai to it. Keep rotating it with the help of a cloth.





Once most of the seeds pop up, remove them from the wok. Repeat with rest of the chaulai. You may want to use a lid to cover it up while chaulai is popping.

Sieve them so that only the puffed up seeds are remaining. Discard the un-popped seeds.

Heat gud with half tablespoon of water.





Once it starts boiling, check the temperature of gud with the help of a baking thermometer. When it reaches 122 degrees Celsius, it's ready. Otherwise you can also drop a drop of gud in water and if it becomes hard immediately, it's ready. Now add ghee and mix. Turn off the heat and quickly pour chaulai on gud.

Mix well.

Moisten your hands and make chaulai laddus.

Also rub some ghee on your palms to help in binding. You need to make chaulai laddus while the mixture is still hot. If the mixture becomes cold, laddus will not bind. So be careful and don't burn your palms. In the worst situation, if you are unable to make laddus, just eat it with spoon.
Leave laddus outside for a couple of hours and then store in an airtight container.

You can even set the laddoo mixture in a greased tray and cut it while it's soft and later on remove the pieces like barfi. This way you don't have to toil on making the laddoos.
Summary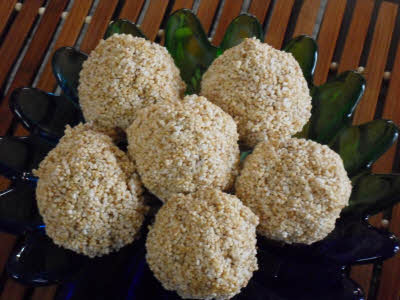 Recipe Name
Author Name
Published On
Total Time
Average Rating





Based on 4 Review(s)